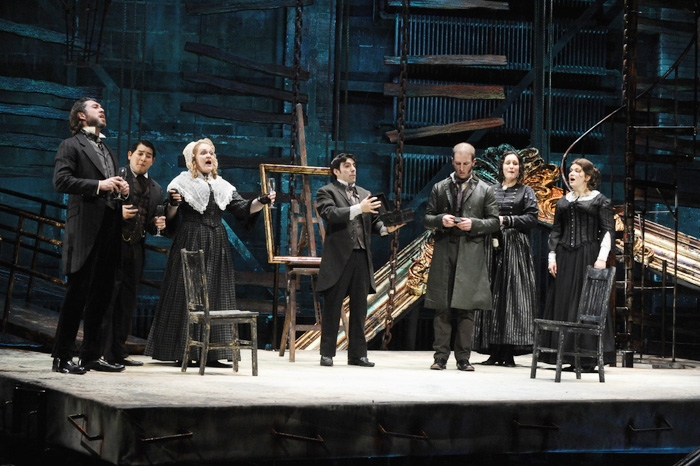 "Exposed brick above, a bottomless pit below, and bracketed by gilt splinters of a titanic rococo picture frame, Paul Tate dePoo III's splendid scenic design gives the impression of a frozen world, rusting in free fall."
- The Boston Globe
"The production is absolutely dazzling. The director is brilliant, and the scenic designer designed one of the most beautiful sets that I have ever seen. It could easily hold its own on any opera stage in the world.
- Tobias Picker , Composer
THÉRÈSE RAQUIN
HUNTINGTON THEATRE + BOSTON UNIVERSITY OPERA
BOSTON . 2010
Composition:
Tobias Picker
Direction:
James Petosa
Scenic Design:
Paul Tate dePoo III
Costume Design:
Erik Reagan Teague
Lighting Design:
Nelson Emig
* Love surrenders to lust in this scandalous tale of primal appetites, embraced by a lavish, sensual score that mirrors the lovers' turbulent affair. Thérése, bound by an unhappy marriage, falls deeply in love with an old friend, but romance turns to madness when they commit a crime that will haunt them forever. Join us for a deadly ménage a trois in what Opera Now calls "a meaningful opera infused with moments of searing reflection and luxurious sensuality."